Every day Dow Futures begin trading on Chicago Board of Trade (CBOT) at exactly 8:20 AM EST. New York Stock Exchange (NYSE) opens at 9:30 AM EST. This one hour and ten minutes of Dow futures trading before the trading of stocks at NYSE usually provides financial managers, professional traders and financial reporters good idea of the market sentiment for the day. Dow Futures began trading at CBOT in 1997.
Discover this Dow Emini Futures Scalping Strategy by Tipu. This Dow Scalper Strategy made $18,367.94 for Tipu in just 21 days. The Dow Emini, symbol: YM trades on the Chicago Board of Trade (CBOT) also known as Chicago Mercantile Exchange (CME), it trades on contract basis and per tick movement in the market. Each contract that is purchased or sold is worth $5 per tick movement,  this alone is a great benefit for beginner investors to start trading with just $500 in margin requirements per contract. Because the Emini Futures trade on an electronic exchange, your orders get routed quickly and filled almost instantaneously on a 'First Come First Served basis', this gives all market participants an opportunity to play on fair level grounds.
The transaction costs in index futures are significantly cheaper than with stocks. And even as cheap as ETFs are as an investment, futures like Dow futures-the e-mini stock index futures are even cheaper. Just multiply the value of the Dow Jones Industrial Average (DJIA) with $10 in order to find the market value of the Dow Futures. Suppose the DJIA is at 7500 points, a single Dow Futures contract will have a value of ($10) (7500) = $75,000. In other words, the value of the Dow Futures contract increases/decreases by $10 for every point increase/decrease in the DJIA.
Futures traders can use this in build leverage of 10 in their benefit by going long or short in anticipation of a major move in DJIA. So if a futures trader believes that the NY stock market is going to rally huge, he can take long position in Dow Futures and make a huge profit in case his optimism turns out to be true.
The CBOT began trading on its electronic platform in April 2002; a mini sized Dow Futures contract valued at $5 times the average. It has grown quickly in popularity, although the mini sized Dow futures contract hasnt matched the popularity of the CME E-min stock index contract like the E-mini S&P 500 Futures contract.
The Dow Index was first published in 1896 comprising 12 smokestack companies. DJIA grew to encompass 30 large industrial companies and became a popular business barometer. DJIA accounts for about 20% of the market value of all US equities. Dow Jones Industrial Average (DJIA) is an index of 30 largest and most liquid blue chip stocks traded on the New York Stock Exchange (NYSE). The average is maintained by the editors of the Wall Street Journal. Unlike the S&P 500, DJIA is a price weighted index.
Movement in the DJIA is sensitive to the news surrounding the 30 companies represented in the index particularly that with the highest prices as Dow is a price weighted index. Today DJIA is the most widely quoted market indicator in newspapers, radio, television and electronic media around the world.
Most countries with a vibrant stock market also have a futures contract on a stock index that represents that economy. Its not surprising that some of the most popular futures contracts are related to equity markets.  Stock-index futures are an integral part of the stock markets daily activity. Currently more than 70 stock-index futures contracts are traded on at least 20 exchanges around the world.
For example futures contracts are available on the Dow Jones Industrial Average (DJIA) as well as the broader Standard & Poor (S&P) 500 Index and the technology oriented NASDAQ-100 index known as Dow Futures, S&P 500 Futures and NADAQ-100 Futures and many other indexes in US. There are now many ETFs available also based on most of these indexes.
Similarly Hong Kong has Hang Seng Futures Contract on its famous Hang Seng Stock Index, France has CAC 40 futures contract on its CAC-40 stock index and United Kingdom (UK) has FTSE-100 futures contract on its famous FTSE-100 stock index, and Dow Jones Euro STOXX 50 covers selected stocks in the euro economy. DAX is another important stock index that ives a good measure of the German economy.
As a percentage of the total number of futures contracts traded, stock-index futures are by far the largest category of futures contracts traded. That dominance clearly speaks of the major role that stock-index futures play in risk management for the entire stock market. Stock index futures like the Dow Futures are traded for speculation as well as hedging purposes.
Stock index futures like the Dow futures are a better option than trading individual stocks. There are other advantages of trading stock index futures like the Dow Futures. Some of these advantages are gains in the futures markets are taxed at a lower rate than the stock market capital gains.
Globex is a 24 hour electronic trading system for a wide variety of futures contract. If something happens on the stock market overnight when it is closed and you want to hedge your risk, you can trade Dow Futures on Globex. Many futures brokerages offer lower commission rates as compared to stocks. When you trade stock index futures like the Dow Futures, you are betting on the direction of the contract value, in this case DJIA and not on the individual stocks that make up the index.
When you are trading index futures, you are blocking out a good deal of the noise that is often associated with the daily gyrations in the prices of the individual stocks. In trading stock index futures like the Dow Futures, you focus on the value and the general trend of the 30 blue chip stocks as a group when you trade the Dow Futures. Similarly when you trade S&P 500 futures contract, you are focusing on the 500 stocks included in the S&P 500 index as a group not as individual stocks.
Stock index futures like the Dow Futures are guaranteed to move in response to the economic indicators. You can simply speculate with the futures contract like the Dow Futures just by using technical and fundamental analysis. You can setup positions with both futures and options as you wait for the news to hit the wire.
Any information that moves the stock indexes can be used to make profit by investing in stock index futures. Stock indexes move when economic news of fundamental nature is released. For the past many years, the monthly NFP employment report which is issued the first Friday of every month at 8:30 AM EST has been an excellent mover for stock index futures like the Dow Futures.
You just need to find one or two stock index futures with which you're comfortable -the ones that enable you to implement your strategies. You don't need to trade every major index futures contract in the world to be successful. Just focus on one stock index futures contract and become its specialist or expert. You can become a successful futures trader in sometime with this approach.
The better off you are, the more you know about a particular type of a contract. So the best way to trade futures contracts is to become a specialist in one type of the contract like the Dow Futures or the S&P 500 Futures or NASDAQ-100 Futures.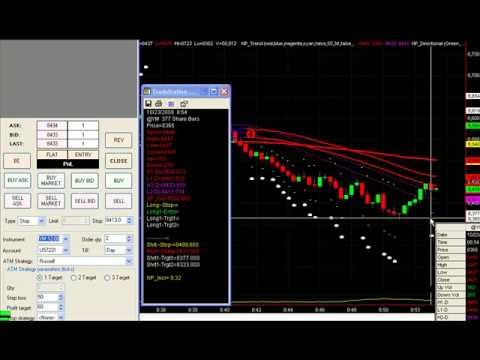 You can use your knowledge of technical analysis to figure out how many days the Dow Futures contract tends to spend rising or falling using Bollinger Bands or Moving Averages. You can get an idea when the Dow Futures contract is likely to turn around. So by becoming a specialist in trading Dow Futures you can make a lot of profit daily for the daily movements in DJIA. This way you can become a Dow Futures swing trader. Every time profiting from a turn in the DJIA!
Comment
comments